Dr. Kotler's primary goal as a physician is to serve his patients as a superspecialist – a trained surgeon with a hyper-focused area of treatment. For Dr. Kotler, this is facial surgery and specifically, nose surgery (rhinoplasty). By concentrating on specific facets of facial aesthetics over many years, Dr. Kotler has truly honed his skills and provides patients with superior care; 95% of the procedures Dr. Kotler performs are on the nose, creating balance in nasal proportions and improving breathing function.
Learn more about what a superspecialist is and what Dr. Kotler can do for you by scheduling a consultation. We offer in-office appointments as well as virtual consultations for out-of-town patients.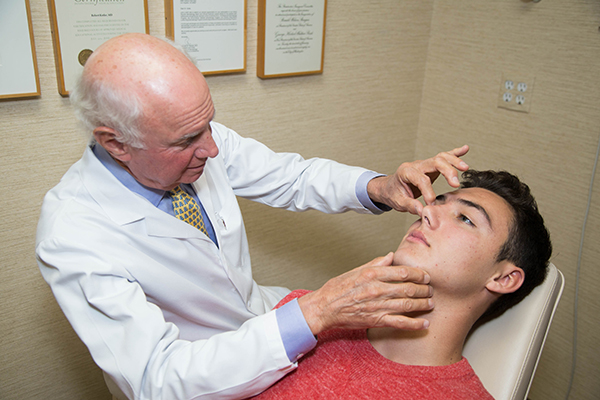 The Benefits of Visiting a Superspecialist in Rhinoplasty and Facial Procedures
The degree of focus Dr. Kotler offers is rare but provides significant advantages. Traditionally, the most specialized surgeons have the highest rate of successful surgeries, as they have spent their careers perfecting their technique in rejuvenating one area of the body. It is often the case that surgeons with a wide range of treatment offerings are jacks of all trades, but masters of none. A superspecialist has mastered technique by limiting their practice to a small range of procedures.
Everybody wants the most specialized doctor – especially when it comes to his or her face. Dr. Kotler's practice has been narrowly specialized, personalized, and honed to deliver superior patient care. Listed are the reasons Dr. Kotler chose to limit his practice to cosmetic surgery of the face and neck, exclusively.
Plastic surgery of the human body is too broad and complex for any one doctor to master all portions of it.
In surgery, as in many disciplines in life – the best results occur when a team of highly skilled and specialized individuals performs the same procedure(s) on a nearly daily basis. Repetition breeds perfection.
Advanced Techniques in Rhinoplasty Surgery
Dr. Kotler's extensive study and practice in rhinoplasty have allowed him to create the most positive experience possible. All Dr. Kotler's nose surgeries are performed using the closed technique, where incisions are placed inside the nostrils; there are no incisions placed on the tissue outside the nose, and no one will be able to see any visible scarring after your nose has healed from treatment. While the more invasive open rhinoplasty may be necessary in the rare case, Dr. Kotler's expertise has allowed him to create fantastic results, with less bruising and swelling, using the closed technique.
Patients are also provided with the Kotler Nasal Airway, which allows them to breathe through their noses immediately after treatment. This special device is placed while patients are in the operating room, right at the end of their functional or cosmetic nose surgery. Most rhinoplasty patients cannot breathe through their noses after treatment, as the post-surgery swelling, and nasal packings block air passages. Dr. Kotler created the Nasal Airway, which is patented and FDA-approved, to best serve his patients and ensure they can function as normally as possible during the healing process.
Treatment Backed by Proven Methods of Care
After many years providing cosmetic and functional rhinoplasty, Dr. Kotler has a unique and in-depth understanding of what works. Some patients may be drawn in by a surgeon who offers flashy technology and "new" surgical methods, but the way to achieve dependable and excellent results is through experience and study. Dr. Kotler believes patients should benefit from standard, orthodox, non-experimental, and predictable techniques. This is very important. Before changing any element of his technique or using different instrumentations, Dr. Kotler performs thorough, personal research by consulting with other physicians in his specialty.
As a surgeon, Dr. Kotler is conservative and careful because, as a patient, that is what he would want for himself.
A Reputation for Beautiful, Natural Results
Perhaps the most important reason to visit our superspecialist is his ability to create results that are natural-looking, age-appropriate, and fit your ethnic background. We understand that patients come to our office looking for the best in care and do not want a cookie-cutter approach. Plastic surgery should be about preserving and enhancing your unique beauty, not making you look like someone else. Dr. Kotler's finesse in rhinoplasty surgery is part of what allows patients to enjoy a refined nose shape that improves their confidence but does not rob them of their natural appeal or completely alter their facial appearance.

Establishing harmony and balance in facial features requires a meticulous approach and a careful study of nose structures and patients' facial features. Dr. Kotler performs thorough patient consultations to help you understand what treatments are recommended and what results are possible with your procedure.
Superspecialist and Board-certified facial cosmetic surgeon Dr. Robert Kotler has consistently delivered superior results for over 30 years. 
Ways to Schedule a Consultation
Fill out the contact form below to schedule your consultation via Skype, Facetime, WhatsApp, or in-office!
Consult with a SuperSpecialist