The Importance of Selecting a Superspecialist
There are now thousands of surgeons who label themselves as practicing cosmetic plastic surgery, plastic and reconstructive surgery, ophthalmic plastic surgery, cosmetic surgery, facial cosmetic and reconstructive surgery or only facial cosmetic surgery. Nearly all are board certified in their core specialty and many are graduates of fellowships, the post-residency " finishing school". Generally, well-trained.
Most importantly, how does one select the appropriate surgeon for their particular needs? The task of doctor selection is daunting. The answer is actually simple: pick the surgeon most specialized for your procedure. For rhinoplasty is it critical since rhinoplasty, with or without nasal septoplasty to improve breathing, is the most complex procedure in the world of cosmetic surgery.
The common denominator in the history of those patients who present for revision rhinoplasty, unhappy with their nose is : "I went to a surgeon who does everything, who was not a specialist in rhinoplasty. I just did not know enough to make a better selection"
If you were to have a breast augmentation, you want a surgeon who has a "breast practice". That surgeon would be a poor choice for a rhinoplasty or nose job, or eyelid surgery. Likewise, if you were to have a hair transplant, why go to anyone who does anything else ? This is now a world of superspecialists. Many surgeons are nearly single-procedure practitioners and that is healthy for patients. And, such is Dr. Kotler; 95% of the practice is nasal surgery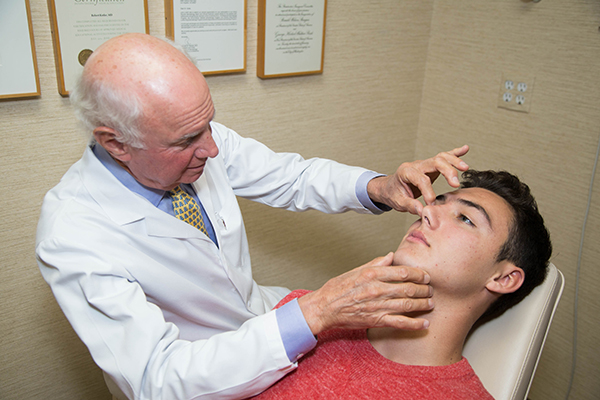 The Benefits of Visiting a Superspecialist in Rhinoplasty and Facial Procedures
Surgical Rhinoplasty, Primary or Revision
Dr. Kotler focuses on rhinoplasty, both surgical and permanent non-surgical. That includes revision rhinoplasty, surgical and permanent non-surgical. Nasal septoplasty and turbinate resection for breathing are done in concert with jalf of the rhinoplasty cases. Associated procedures such as chin augmentation, neck sculpture can done at the same surgical session.
Dr. Kotler is a Master of the Closed Rhinoplasty
Doctor Kotler superb training and long experience allowed him to master the closed rhinoplasty technique: all incisions internal. No visibile incisions on the outside of the nose, no external stitches that must be removed, as with the open rhinoplasty technique. With the closed rhinoplasty technique, all incisions are well-hidden within the nose. The stitching is internal, invisable . And the stitches dissolve; no stitches require removal. Those are huge advantages. All that without compromising the result. The proof for that is in our photo gallery. All cases shown were closed rhinoplasty cases.
Permanent Non-Surgical Rhinoplasty and Permanent Non-surgical Revision Rhinoplasty
No one in the U.S. has more experience with injections of medical grade liquid silicone ( trade name Silikon-1000, for example) to correct imperfect rhinoplasties or substitute, if appropriate for a surgical rhinoplasty or revision rhinoplasty. While many doctors offer temporary fillers, few patients are fortunate enough to know about this only FDA-approved permanent filler.
Thousands of injections performed for more than 40 years. Our photo gallery shows the importance of this office technique.
For patients who would like look into the mirror and see exactly the result they would have with permanent filler, Dr. Kotler devised the Kotler Saline Demo, a preview or test drive. Check out the technique in our video library.
All Patient Have Computer Imaging at Office Consultation or Even Remote Consultation.
Why wonder how you can look after rhinoplasty? Why not be able show the doctor what you would like to have? Why not have a meeting of the minds to best decide what your result can be? None of that is possible without computer imaging. Any consultation without computer imaging is not very valuable. Think about it. You may have an image of the nose that would make you happy. The surgeon may have his thoughts on what he should do – and can do – but without computer imaging how do you get that important " meeting of the minds?"
Even if you consult with Dr Kotler from 10,000 miles away, via Skype or FaceTime, or just telephone, you can also have computer imaging. Pretty great world we live in!
Reltok Clear-Flo™ Nasal Airway
Most rhinoplasty patients cannot breathe through their noses after treatment, as the post-surgery swelling, and nasal packings block air passages. 
Dr. Kotler created the Nasal Airway, which is patented and FDA-approved, to best serve his patients and ensure they can function as normally as possible during the healing process. Patients are also provided with the Kotler Nasal Airway, which allows them to breathe through their noses immediately after treatment. This special device is placed while patients are in the operating room, right at the end of their functional or cosmetic nose surgery. 
The Reason Behind Our 240+ Five Star Reviews
After many years providing cosmetic and functional rhinoplasty, Dr. Kotler has a unique and in-depth understanding of what works. Some patients may be drawn in by a surgeon who offers flashy technology and "new" surgical methods, but the way to achieve dependable and excellent results is through experience and study. Dr. Kotler believes patients should benefit from standard, orthodox, non-experimental, and predictable techniques. This is very important. Before changing any element of his technique or using different instrumentations, Dr. Kotler performs thorough, personal research by consulting with other physicians in his specialty.
As a surgeon, Dr. Kotler is conservative and careful because, as a patient, that is what he would want for himself.
A Reputation for Beautiful, Natural Results
Perhaps the most important reason to visit our superspecialist is his ability to create results that are natural-looking, age-appropriate, and fit your ethnic background. We understand that patients come to our office looking for the best in care and do not want a cookie-cutter approach. Plastic surgery should be about preserving and enhancing your unique beauty, not making you look like someone else. Dr. Kotler's finesse in rhinoplasty surgery is part of what allows patients to enjoy a refined nose shape that improves their confidence but does not rob them of their natural appeal or completely alter their facial appearance.
Establishing harmony and balance in facial features requires a meticulous approach and a careful study of nose structures and patients' facial features. Dr. Kotler performs thorough patient consultations to help you understand what treatments are recommended and what results are possible with your procedure.